Volunteer as a sports coach in Costa Rica and inspire children to live active, healthy lives. You'll gain valuable experience working at a local school to help run the school's sporting activities.
Join this project to live out your passion for sport, and also use it to impact the the lives of children from a disadvantaged community. Sport can help develop positive attitudes, and can teach important life lessons like discipline and teamwork.
Your volunteer work will be a great benefit to local teachers who are often unable to devote enough attention to physical education. The schools we work with are also largely under-resourced or understaffed. They need all the support they can get.
You can choose to focus on a specific sport, or spread your focus across many sports and activities. You'll have the freedom to set your own goals and make a unique contribution to your placement. Make your volunteer experience in Costa Rica your own.
When you apply you only pay $495, which comes off the total price.
Looking to do more than one project? Call us on 09 889 0587 to see if we can offer a discount.
Project Overview
Flexi Trips - A flexible project that gives you the support and independence you need as you volunteer
Costa Rica > School Sports
Completely flexible dates
Anyone aged 16 or over can join
What's included in the price?
Accommodation

Food (three meals a day)

Travel and medical insurance

Airport pick-up and drop-off

Full induction and orientation by an experienced staff member on arrival

Transport to and from your work placement

In-country support and 24-hour back-up from our team of full-time local staff

Emergency assistance from our international emergency response team

Project equipment and materials, including access to our database with thousands of resources

Training and workshops from our experienced local staff

Regular social events and community activities with other volunteers and interns

Access to our local office with internet connection

A supervisor/mentor at your work placement

Certification of project completion

Access to our alumni services and discounts

Visa support and advice

Fundraising support, including your own personalised fundraising website

Pre-departure preparation by your own specialist Volunteer Advisor

Personalised MyProjectsAbroad website, with all the information you need about your project, accommodation and destination

A cultural awareness course

Membership to our volunteer social media groups, to share information and to get in touch
What's not included?
Flights

Visa costs (where applicable)
Is volunteer sports coaching in Costa Rica right for me?
This project is suited for those who love sports and enjoy being active. Your passion for sports will influence the children to develop their own love for sports, whether it be a specific sport, or a whole bunch.
Volunteer Sports Coaching in Costa Rica is a great option if you're taking a break from your college studies or work. You can use your time off to make a difference in the lives of children abroad.
This hands-on sports coaching experience in Costa Rica will add valuable experience to your CV. If you're pursuing a career in this area, this will stand out in future applications.
If you want sport to be part of your career, volunteering as a sports coach is a good option to gain practical experience. A hands-on sports coaching experience in Costa Rica will help you gain the skills to benefit your career. You can focus on a specific sport, or coach several.
This project is not only for those planning a career in sports coaching. By joining, you'll also make a significant contribution to the lives of children in need through sports. You don't need previous coaching experience to join us in Costa Rica. You'll work alongside a local sports coach who will guide you through your work.
Our staff in Costa Rica will be available 24/7 to help with anything you need during your trip. We want you to feel comfortable to get the most out of your time abroad.
What will I do on this project?
As a sports coach in Costa Rica, your main focus will be to assist local staff at a school. The specific activities you do can very, but can include the following:
Assist a local teacher during school sport classes
Organise games and activities for the children that promote fitness, health, and well-being
Work at a special education centre for children and young adults with disabilities
Assist a local teacher during school sport classes
You'll work at a local school from an underprivileged community, supporting a local teacher. Many schools in Costa Rica do not have access to resources and a high standard of sports coaching. This could be in the form of a physical education teacher, depending on where you are placed.
Organise games and activities for children that promote fitness, health, and well-being
The school you work at will benefit from a focus on games and activities that promote fitness, health, and well-being, such as dodgeball, hide and seek, and dancing. But, you won't be limited to these. There will be plenty of room to provide your own input into the sports coaching curriculum.
Some of the schools we work with teach sports like volleyball, athletics, and football. You could choose to focus on one or all of these sports, or introduce a new sport. Some schools also have limited space, facilities, and equipment. So, you can use your imagination and creativity to adapt the sports and games to get the most out of your placement.
Work at a special education centre for children and young adults with disabilities
You can also choose to work at a special education centre for children and young adults with disabilities. If you have a particular interest in this area, let us know, and we'll place you at this facility. You'll focus on finding alternative ways to use sport to make a positive difference in the lives of the people with disabilities.
Where will I work in Costa Rica?
Heredia
As a volunteer teaching sports in Costa Rica, you will live and work in the university town of Heredia. This town is situated in the heart of Costa Rica's coffee-growing country, and is within close proximity (11km) to the capital city, San Jose.
Most of our sports coaching placements are in primary schools, with the children aged between about 6 and 13 years old. You can also choose to volunteer at a center for those with physical disabilities.
A typical day on this project
You'll spend most of your time at the school where you're placed. Here, you'll fit into the schedule of a normal school day.
School days in Costa Rica are split in two: Half the children attend in the morning, and the other half in the afternoon.
Morning school runs from about 7:00am to 12:10pm. Afternoon school runs from about 12:30pm to 5:40pm. The hours you work will depend on where you are placed, but you will work between 5-6 hours a day, Monday to Friday.
During the hours you work, you'll provide assistance to a local sports coach or physical education teacher. In some instances, you may be required to run your own sessions with the children. You'll help run coaching sessions and organise sport games that promote physical activity and healthy living.
In your free time, you'll have a lot of opportunity to explore the surrounding area. Heredia has an active cultural and social scene and has plenty to offer to keep you entertained. Its central location means that Heredia is perfectly placed for exploring the rest of Costa Rica.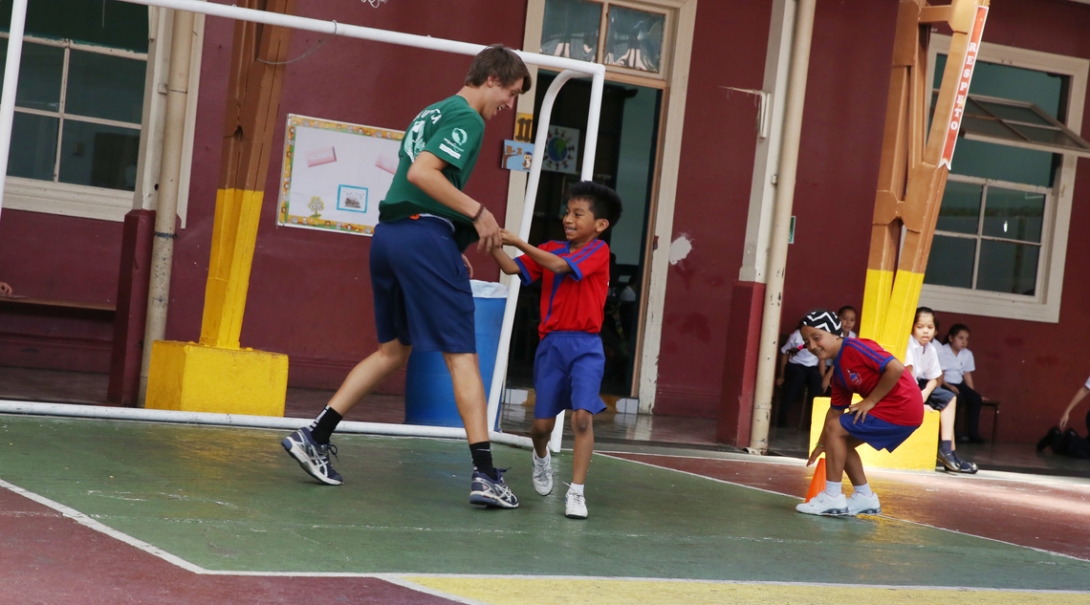 What are the aims and impact of this project?
The main aim of this project is to give children in disadvantaged communities access to sports coaching. Many of the schools we work in have limited access to resources like equipment and coaches.
By coaching sports, you can inspire children to pursue healthy and active lives. Sport can be a great source of motivation for children living in difficult circumstances. Other than improving their sporting skills, sport will help children develop their self-confidence and learn teamwork and discipline.
This project also aims to give you the opportunity to experience living and working in another country. By joining, you'll broaden your global perspective and learn about issues faced in developing countries. It's also a great opportunity to develop skills like leadership and team management.
Join us as a sports coach in Costa Rica to impact the lives of children through sport.
Measuring Our Impact
Our projects work towards clear long-term goals, with specific annual objectives. Every volunteer and intern we send to these projects helps us work towards these goals, no matter how long they spend on our projects.
Every year we take a step back and look at how much progress we've made towards these goals. We put together a Global Impact Report, which documents our achievements. Find out more about the impact our global community of volunteers, interns and staff make, and read the latest report.
Meet the team in Costa Rica